If you have a backyard, you are already ahead of the game when it comes to giving your kids a great place to play. However, even if you only have a small patio or balcony, there are still plenty of ways to create an outdoor play area for your little ones.
One great option is to set up a water table or sprinkler in your yard. This will provide hours of entertainment for your little ones as they splash around and cool off on hot days.
Another idea is to create an obstacle course using household items like hula hoops, plastic balls, and jump ropes. This is a great way to encourage physical activity while also getting the creative juices flowing.

When you have some extra space in your yard, consider setting up a small garden where kids can plant their own vegetables or flowers.
Gardening is a great way to teach responsibility and patience, plus it's really satisfying to see something you've grown yourself.
Finally, no outdoor play area would be complete without some good old-fashioned toys like swings, slides, and seesaws.

These classic staples are sure to bring back fond memories for you while creating new ones for your children.
So there you have it—a few of our favorite ideas for outdoor play areas for kids. Just add some sunshine and laughter, and you're all set.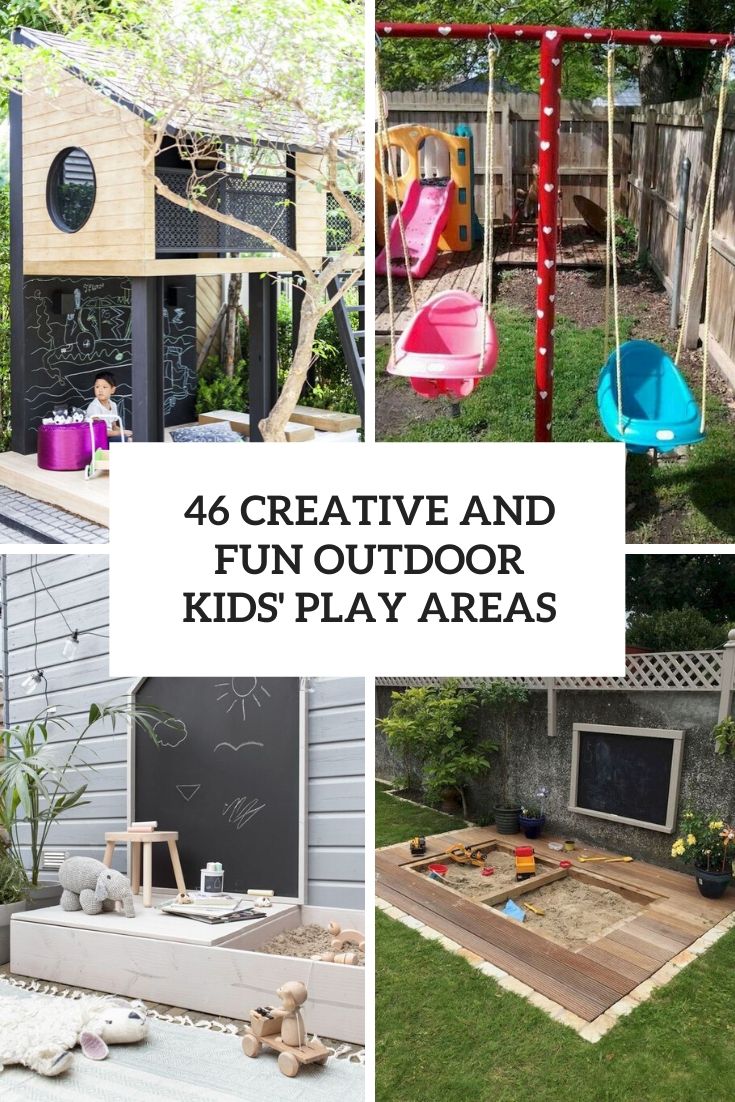 What Do You Put down in a Kids Play Area Outside?
When it comes to creating a fun and safe play area for kids outside, there are a few things you'll want to take into consideration.
First, you'll need to choose a level spot that's free of any obstacles or hazards. Once you've found the perfect location, you can start planning what type of flooring to use.

There are a variety of options available, from poured rubber mulch to interlocking foam tiles. You'll also want to make sure there's plenty of space for running, jumping, and playing around – so be sure to leave some room for imagination.
Looking for ideas on how to decorate or furnish your outdoor play area? Consider investing in some kid-friendly furniture and accessories.

Picnic tables, benches, and umbrellas are all great choices that will help keep little ones cool in the shade. And don't forget the toys. Balls, hula hoops, and other outdoor games are essential for hours of fun in the sun.

With a little planning and creativity, you can easily create an enjoyable space where kids can let their imaginations run wild.
How Do You Make a Play Area for Kids Outside?
When it comes to creating a play area for kids outside, there are a few things you'll need to take into account. First, consider the size of the space you have to work with.
You'll also want to think about what type of activities your kids will be doing in the play area and what sort of equipment they'll need. Here are some tips to help you get started:
Choose the right location: The location of your play area is important for two reasons. First, you'll want to make sure it's in a safe spot away from any potential hazards like busy streets or pools.

Second, you want to pick a spot that gets plenty of sunlight so your kids can enjoy playing outdoors all day long.
Consider the size of the space: Once you know where you want to put the play area, start planning out its size. This will depend on how many kids will be using it and what types of activities they'll be doing.

If possible, create a designated space just for them so they have plenty of room to run around and play without getting in anyone's way.
Select age-appropriate activities: When choosing activities for your kids' play area, always opt for ones that are appropriate for their age group. This not only helps keep them safe but also ensures they can actually enjoy and benefit from the activity itself.

For younger children, simple things like sandboxes, slides, and swings are perfect while older kids might enjoy more challenging options like monkey bars or climbing walls.
Get creative with storage: One way to maximize space in your play area is by being creative with storage solutions.
What Can I Use for Kids Play Area?
When it comes to finding the perfect surface for a kid's play area, there are many things to consider. First and foremost, you'll want to make sure that the material is safe for children.
It should be soft enough to cushion any falls, yet firm enough so that limbs can't get caught in between spaces. You'll also want to consider how easy it is to clean – spills and messes are inevitable with kids.
Here are some of the most popular materials used for kid's play areas:
Foam mats: These interlocking foam mats are a great option for both indoor and outdoor use. They're waterproof, slip-resistant, and easy to clean – just hose them down!
Rubber tiles: Another popular choice for outdoor play areas, rubber tiles provide a cushioned surface that's also slip-resistant. They can be installed over concrete or grass, and are easy to clean with a power washer.
Artificial turf: If you're looking for a low-maintenance option, artificial turf is a great choice. It looks like real grass but doesn't require any watering or mowing – perfect for busy families.
What Should I Put in My Backyard Playground?
When it comes to backyard playgrounds, there are endless possibilities for what you can include. It really depends on your budget, the amount of space you have, and most importantly, what your kids will enjoy. Here are a few ideas to get you started:

First and foremost, you'll need a safe surface for your playground. This can be something as simple as mulch or rubber mats. You'll also need some sort of structure – whether that's a swing set, a playhouse, or just a few climbers and slides.

In terms of accessories, think about things like seesaws, sandboxes, and basketball hoops. Water features are always popular in playgrounds – sprinklers and small pools are perfect for hot summer days. And don't forget the all-important swings!

Of course, your backyard playground should be tailored to your own unique situation. But with these basic guidelines in mind, you're sure to create a space that both you and your kids will love spending time in.
Ideas For Kids' Outdoor Play Areas near Pflugerville, Tx
If you're looking for some great ideas for kids' outdoor play areas near Pflugerville, TX, you've come to the right place! Here are a few of our favorites:
Hidden Falls Adventure Park – This park is perfect for kids who love to explore and play in the water. There are several falls and pools to splash around in, plus a ton of rocks to climb on.
Playland Skate Center – Kids can burn off some energy skating around this huge indoor skate center. There's also an arcade if they need a break from skating.
Austin Zoo – The Austin Zoo is a great place to take kids for a day of animal fun! They can see all sorts of animals, including lions, tigers, and bears (oh my!). Plus, there are plenty of places to run and explore.
Conclusion
Outdoor play areas for kids can provide a fun and stimulating environment for children to exercise, explore, and socialize. Some ideas for outdoor play areas include natural playscapes with trees, rocks, and water features, as well as more traditional play structures such as swings, slides, and climbing equipment.
By providing children with opportunities for outdoor play, we can help them develop important physical, cognitive, and social skills that will serve them throughout their lives.